February 8 & 9, 2020!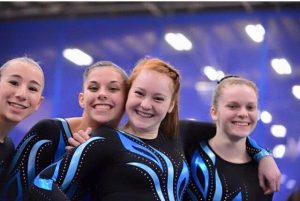 Guaranteed Weekend Competition!
All meets will be held on either Saturday or Sunday!
Location: Starland Sports Complex
Meet Admission Costs:
$15 for adults
$5 for children 12 and under and seniors (60+).
Spectators may pay by either cash or check. There is an ATM on the premises of the meet.
Gymnast Check In:
Each gymnast will need to check-in at their assigned time, and they will be given their gift when they check in.
Raffles:
There will be numerous raffles that will last all weekend.
Refreshments:
The "U" also has a restaurant and a snack bar that are adjacent to the meet location, so food will be available during all sessions.
Parking/Entering the event:
Spectators will need to enter the event through the door facing Washington Street (Route 53) in the middle of the building. They will enter the building on the second floor and will need to either use the stairs or the elevator to come down to the first floor. Because the venue has a number of activities going on in addition to our meet, we expect that parking immediately adjacent to the entry will be limited. However, there is parking along the sides and back of the building. Also, the U also owns the Dairy Queen and adjacent property just to the right of the facility (as you face the door) where additional parking can be found. Be certain to not park in spots reserved for Dairy Queen.
Contact:
Email mardigrashoh@gmail.com for questions or information