February 12 & 13, 2022!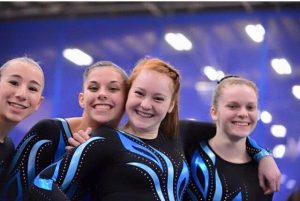 Guaranteed Weekend Competition!
All meets will be held on either Saturday or Sunday!
Location: Starland Sports Complex
Meet Admission Costs:
$20 per Person (cash only, ATM on site)
Children under 14 free with paying adult
Refreshments:
Restaurant and concession stand located with Starland.
Hotel Information
Comfort Inn
850 Hingham Street
Rockland, MA 02370
2 Double Beds – Room Rate $89.00/night
Reserve Here: Comfort Inn
Double Tree Hotel
DoubleTree by Hilton Boston
Rockland 929 Hingham St.
Rockland, MA 02370
Tel: 781-871-0545
Parking/Entering the event:
As a number of activities are taking place at the venue in addition to our meet, we expect that parking immediately adjacent to the entry will be limited.  Additional parking is located along the sides and back of the building as well as in the Dairy Queen parking lot (with the exception of parking spots marked as reserved for Dairy Queen).  Please enter through the main doors (facing Washington Street/Rt 53).  Take the stairs or elevator down to the meet entrance."
Contact:
Email mardigrashoh@gmail.com for questions or information